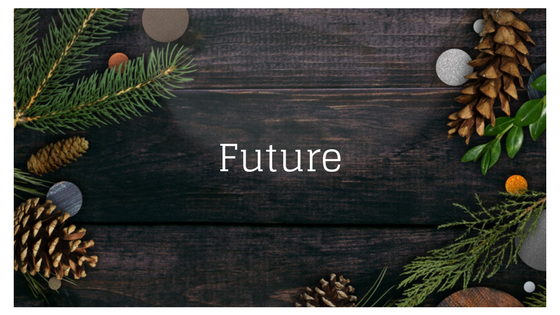 The last of Scrooge's visitors shows him what will be.  What his life will look like and those around him if things don't change. If he doesn't change.  The lives of the Cratchit family, and the loss of their son Tiny Tim.  The general attitudes of those who knew him in the day to day.
Then he is taken somewhere that changes his life forever.
He is shown his own grave.
That  is where the redemption of Scrooge begins.
He is shown his death and burial and it's enough to cause him to 'resurrect' if you will, out of his grave.
 Waking up a new man.  We leave Ebenezer Scrooge here.
But our Advent Journey is not over.
To recap:
We've remembered that before Christ, we had no interest in Him or were unaware that we had a void that needed to be filled.  That could only be filled by Christ himself.
And then people prepared the way for us to hear, to be open to the Gospel.
That Jesus takes us on a path of remembrance for repentance.
Our death.
Next is our burial.  When we take on the name of Jesus in baptism.  Commit our lives to Christ.
For believers we are encouraged to remember the "Reason for the Season" is Jesus's birth.  God made flesh is indeed a great gift.
That He cared enough to come down into the world He created in order to save it.
But there is a bigger reason for this season.  More of God's plan for our lives.
There is another gift for you and I as believers, and for those that still need to hear.  And that is the gift that was given 33 years after the birth of Christ.
The grace, love and mercy that poured out in shed blood by Jesus on Calvary.
His blood was most precious.
That gift allows us to really look to the future.
A future in Christ, a future with Christ. 
I know this season can be difficult for some. Past hurts. Current hurts.  Family not around or estranged.  Feeling alone in the midst of all the gatherings.  Feeling like, in this month of everyone seeming to be happy– you are finding yourself grieving for a variety of reasons.
 But know that all is not lost.  There is redemption.
There is a Hope.  There is joy and peace. 
Love and life everlasting.